Takin from Dontstayin.com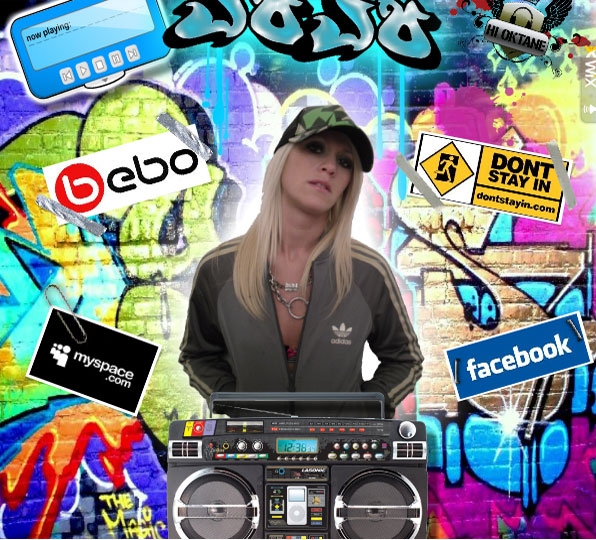 In today's hard house scene there seems to be a distinct lack of female DJ's that can really smash it out like the big boys. In the last year JoJo has deffinetly proven herself worthy with playing along such names as Glazby, Stevens, Ilogik, JP & Jukesy & Defective Audio at some of the UKs biggest events like Storm, Goodgreef, Hi Oktane, Requiem, Coalition, Summit, Parlez-Vous, Hard Dance Awards & VCr3 b2b Ben Stevens!
For someone who is usually branded a filthy little madam, Jo raised a few eyebrows when she warmed up for me and Ben at Hi Oktane, playing a wicked warm up set that was incredibly fitting and flawless at the same time. One of my favourite sets from last year I reckon
Nik Denton
JoJo is without a doubt one of the best hard house djs I heard play out last year, don't mind gender as in female or male djs this girl can mix it up with the best of them, also her first productions have been kicking and long may it last
Karl Davis
JoJo's energy behind the decks really shows her passion for the music she plays. During any set you will rarely see this girl stood still for more than a few seconds. This paired with her seamless mixing and relentless tune selection you always know that you are guaranteed a remembered set every time.
Jo is easily one of the most talented djs I've come across in ages. It's not often you hear somebody play who has what can only be described as the x factor, but that is exactly what she has. Her mixing is tight and her presence behind the turntables is second to none. Her ability to read a crowd is also perfect. I have every confidence in her success in the near future
Rob Tissera
Jo is one of the fastest up & coming stars on the hard dance scene today, her energy behind the decks and quality mixing has rocked the crowd at every gig I have seen her play at. With a few productions under her belt now I expect more of the same for 2009!
Ben Stevens
Not only has JoJo been making herself known with her sets, she has also started producing some impressive tracks With some of the scenes best producers, Ben Stevens, Dave Owens, Adam M and Tom Parr With forthcoming track's on Oktane records. Her tracks are getting a lot of support from Rodi Style, Ben Stevens and Adam M.
Jo is by far the fiercest female dj Ive ever come across. I simply couldn't believe my ears when I (accidently!) listened to one of her mixes this year. Her energy is unreal and her presence behind the decks is immense. Love the girl!
Karim
There is very promising and exciting things in store for JoJo in 2009, so watch this space......