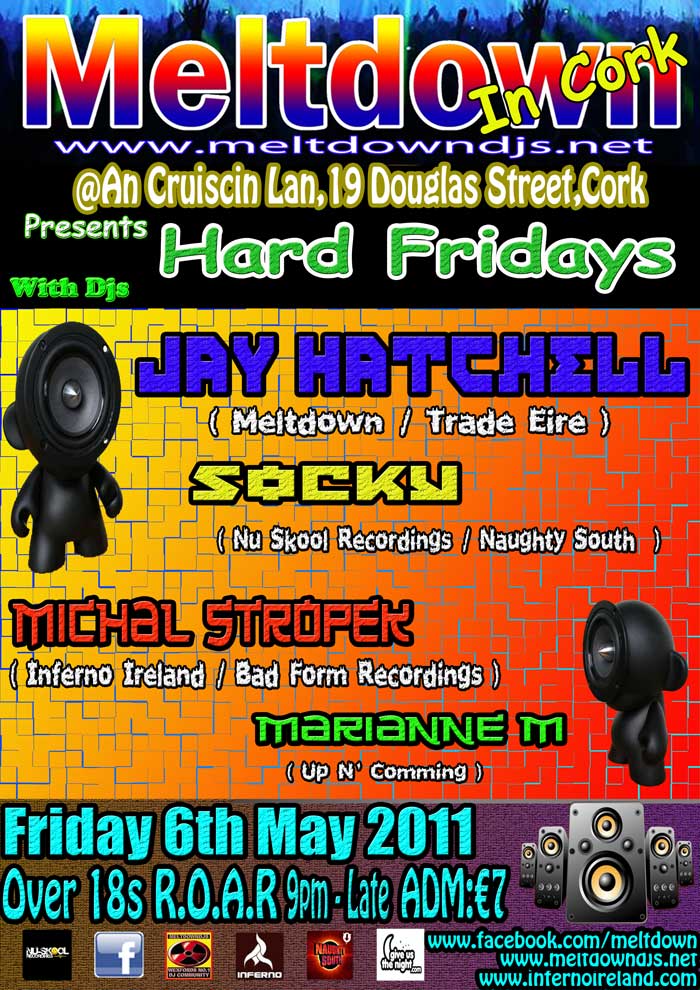 Meltdown takes over An Cruiscin Lan in Cork City on Friday the 6th of May for a night of full on Hardhouse and Techno.
First up to the decks on the night is Marianne M for her debut apperence @ Meltdown, Marianne is an up and coming HH dj from Limerick and is sure to become a regular appearance on lineups across the country
Up next Michal Stropek of 'Inferno Ireland' and 'Bad Form Recordings' steps up playing the best in pounding... Techno.
Socky of Cork night 'Naughty South' & top hard house label 'Nu-Skool Recordings' hits to the decks next for a set of full on Hardhouse - expect to hear hard house new and old and a preview of some of the latest Nu-Skool signings.
Then Meltdowns Jay Hatchell finishes the night in true IRISH style promoting some of the finest up front Hardhouse promos been produced in this country - expect to hear tracks from Pierce Rooney,Karl Davis, Ian Fitz, Claire Brown, Jay Pepper, Wizard to name a few and also new tunes from Jay Hatchell.
This night kicks off at 9pm Admission is only €7 Full lighting show plus CD give-aways on the night.
Arrive Early to Avoid Disappointment!!
Line Up
Marianne M
Michal Stropek
Socky
Jay Hatchell
Doors@9-late
Adm:€7
No ID No Entry R.O.A.R

_________________
Fuck Work Play Decks