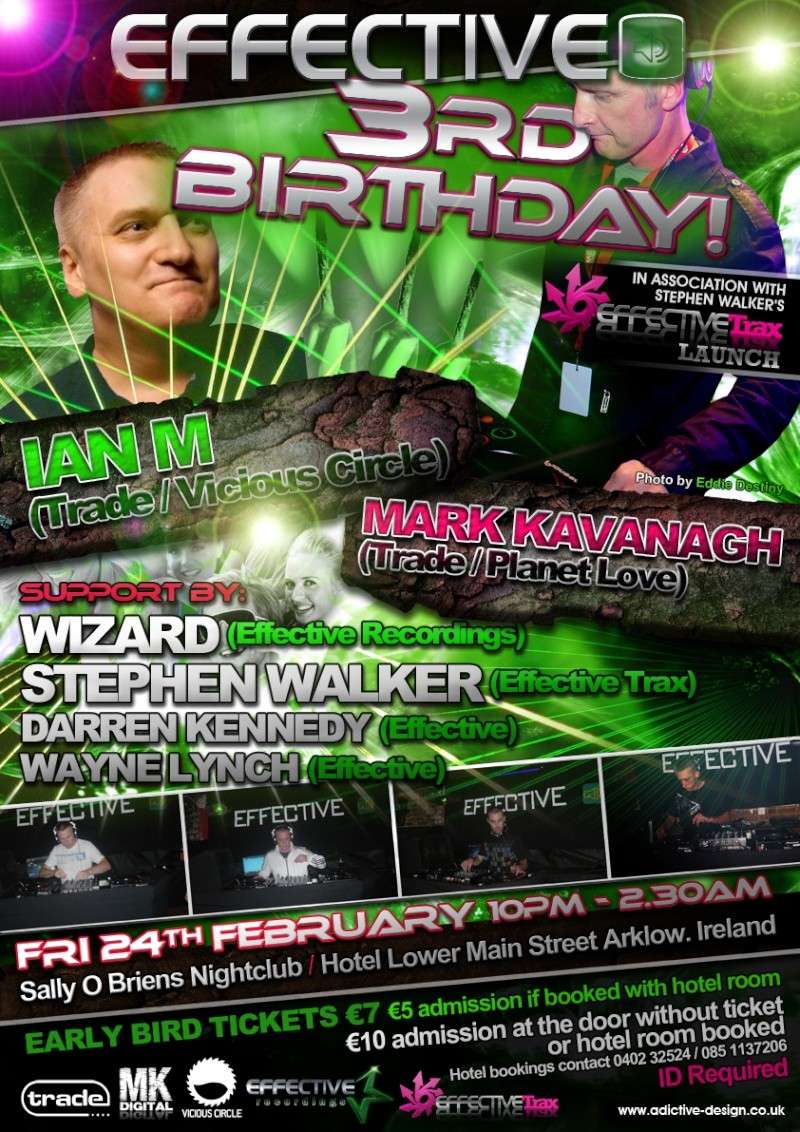 http://www.facebook.com/events/326492214046918/
BIRTHDAY BASH TO HAVE BIG EFFECT!!
2012 sees the return of hard house club Effective 3 years after it rammed more than 600 people into its opening party at Rascals,Arklow february 2009.
The birthday blowout will run at the fantastic venue Sally O Briens,Arklow, Co.Wicklow on friday 24th february. Djs include Irish legend Mark Kavanagh returning for the 3rd time since the launch,also joining him is Trade legend Ian M from the U.K & the likes of Wizard,Stephen Walker,Darren Kennedey & Wayne Lynch turning up the heat!!
The Effective brand has grown quickly with in the last 3 years with events featuring some of the biggest names in the scene + the launch of Record Label Effective Recordings in september 2011 run by Wizard. Now 2012 we see Stephen Walker showing his love for hardhouse launching his Record Label Effective Trax. Expect to hear some tracks from both labels on
the night!!
Effective Recordings.
Facebook :
http://www.facebook.com/pages/Effective-Recordings/231510820213944
Soundcloud :
http://soundcloud.com/effective-recordings
wizard_effective.recordings@yahoo.com
Effective Trax.
Facebook:
http://www.facebook.com/pages/Effective-Trax/160137834090680
Soundcloud:
http://soundcloud.com/eff-8
effectivetrax@hotmail.com
We would like to thank you all, the clubbers,Djs & other promoters we have worked with for your continuous support over the past years & hope to see you lot join us in celebrating our 3rd year in the scene with 2 hard house legends headlining this event none other than IAN M & MARK KAVANAGH!
EFFECTIVE 3rd Birthday
Presents
IAN M (Trade / Vicious Circle)
By far the hardest sounding of all the Trade DJs, rulin the dance floor with his energetic beats of true hard house. Ian became a Trade Resident after being heard by a Trade talent scout in 1994. He was tried, tested, and booked to play at a Trade event in Birmingham. Ian became a Trade resident almost immediately, and has been with us ever since. His style of music is second to none! hard, bangin, and fast. This shouldnt be interpreted as relentless, far from it! Ians music is uplifting and energizing and is guaranteed to lift the crowd into oblivion. In the studio, Ian is in great demand.
MARK KAVANAGH (Trade / Planet Love)
Legendary Irish DJ & Producer: He Started his career playing and producing hard house records but in recent years has moved onto genre's including hard dance and tech trance.Mark used to present clubmix on radio ireland, a weekly show.His live shows are a joy to be at, he never fails to make an impression.Mark has played alongside some of the worlds top dj's at some of the biggest festivals and shows.As a producer he has released many tracks on the Tripoli Trax, Vicious Circle Recordings and his own Baby Doll Records in Which he ran with Alan Pullen.Mark Also writes for The Irish Daily Star Newspaper, clubmix comes in the star every friday.He is a crowd favourite and one of irelands true legends of music.So join Marks army and give your support!
Support by:
WIZARD (Effective Recordings)
STEPHEN WALKER (Effective Trax)
DARREN KENNEDY (Effective)
WAYNE LYNCH (Effective)
Sally O Briens Nightclub / Hotel
Lower Main Street Arklow.Ireland
Hotel bookings contact : 0402 32524 / 085 1137206
Fri 24th February
10pm - 2.30am
Id Required!
Early Bird Tickets €7
€5 admission if booked a hotel room.
€10 admission at the door without ticket or hotel room booked.
Venue / Hotel website :
http://www.booking.com/hotel/ie/royal-arklow.en.html?aid=311076%3Blabel%3Dhotel-40473-ie-xB_jmyPptxWjn0iAmePNCAS3875627220%3Bws%3D&gclid=CKjwnabCqqYCFQ1O4Qod00_DZw